Harry Jorgensen - Marine Surveyor - Profile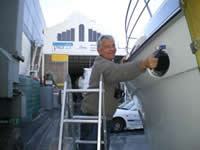 Owned and operated by Harry personally, with assistance available from a number of specialists, expert in their field, on an as needed basis.
All initial inspections carried out by Harry Jorgensen, a second generation time-served boat-builder/designer and a member International Institute of Marine Surveyors (IIMS) and a member of the Royal Institute of Naval Architects. Initially trained at Jorgensen's boatyard in Picton and with over 40 years experience from traditional timber construction to steel, alloy and modern composite superyacht construction.
A keen sailor, Harry completed a circumnavigation in the 1990's in his 50ft alloy cutter and is now a launch owner having spent some thousands of hours building and detailing his superb 40' launch Zeus.
Harry offers a professional blend of well-trained, experienced, technical and practical skill to existing and prospective boatowners who are always welcome to contact him for professional advice and project management in addition to his pre-purchase inspection and survey services. He is available for domestic and international engagements. Please contact Harry directly for Terms and conditions.
---